German Design Award 2017 – Special Mention and Nominee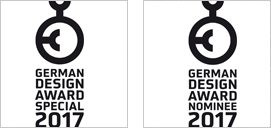 For the fifth time in a row, the artverum® magnetic glass boards and the CONCEPTUM® notebooks and planners impressed the judges of the GERMAN DESIGN AWARD. Both product groups stood out from the 4,058 submissions in 27 categories. With nearly 700 more submissions than in the previous year, the GERMAN DESIGN AWARD continues to increase its importance among the international design competitions.
artverum® received a "Special Mention" in the "Office Furniture" category for outstanding design quality. The award-winning products include the new products for 2017: the classy natural stone designs "Black Marble" and "Green Mineral", the new red boards in the practical 60 x 40 cm and 100 x 65 cm formats, plus the small, colourful C5 magnets. The timing was perfect: the products were able to show off their new award just as deliveries began. Other award-winners included the "World Map" design with its stylish stone effect, the four classy metallic designs, the circular and hexagonal boards and the mirror version of artverum®. The berry red boards and the colourful C20 magnets were also winners. These products have already proved that their design is superb, that they are of top quality and highly practical: last year, they won the "ICONIC AWARD 2016 – Interior Innovation" award.
The CONCEPTUM® notebooks and planners received a nomination in the "Books & Calendars" category. Once again, this shows that the black hardcover books with the popular "Softwave" surface are well-received. The winners here were the notebook in the practical tablet format, the 18-month planner and the weekly planner with a vertical layout. The Colour collection of hardcover planners for 2017 with their fresh colours and metallic finish was also proud to be distinguished as a "Nominee". In addition to this, the jury chose the new softcover notebooks and planners for 2017 for an award. These books have recently become available with the classy "Softwave" surface in elegant business tones.