Iconic Awards 2017 – Interior Innovation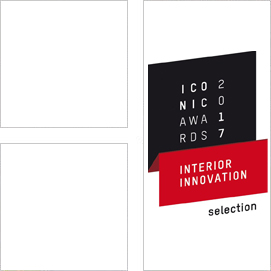 The new artverum® products for 2017 came away as winners in the "Office and Workplace" category, one of nine different categories available. The individual winners were the classy natural stone designs "Black Marble" and "Green Mineral", the cheery red boards in the practical 60 x 40 cm and 100 x 65 cm formats, plus the small, colourful C5 magnets.
Because the ICONIC AWARD 2017 – INTERIOR DESIGN focuses specifically on the interior design sector, it is one of the smaller design awards. However, it is an award with considerable significance at an international level. Based on the principle of "quality not quantity", 179 awards were given, chosen from over 400 submissions from a total of 25 countries. The jury used a number of criteria to evaluate the products: on the one hand, they considered design features such as quality of design, ergonomics and degree of innovation, while at the same time looking at practical characteristics such as value in use, durability and safety. The new artverum® products for 2017 ticked all the boxes and could not fail to impress the judges – another success for Sigel and further consolidation of artverum®'s position as a premium designer product.