BusinessCard Software Demo - Test for 14 days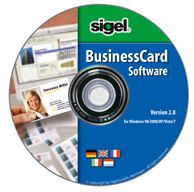 Demo version
BusinessCard Software
Software for Business Cards
Create the perfect business card - of print shop quality.
Formal, classy or trendy - add a personal touch tp your card with the great editing and special effect functions.

Free download
ZIP (9,4 MB)
Software features:
Creative design options - gradated colour, graphics imports, picture editing,
text with special effects, complete forms and much more
Interactive help function - step by step to the perfect printout
for Microsoft Windows 98SE/2000/ME/XP/Vista/7/8/10
Languages: German/English/French/Dutch/Italian
Numerous design options

Includes over 4000 templates

Print - detach - that's all!