Labelling software for Name Badges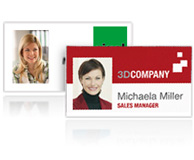 The easy way to precisely position text on your Sigel Name Badges: the free "Name Badges" labelling software.
Create perfect prints every time thanks to the professional design functions and templates that match the dimensions of the cards exactly - fast, simple, free!

Free download
ZIP (6,31 MB)
Software features:
suitable for name badges ZB221, ZB222, ZB211,
ZB212 and ZB213
25 ready-made templates
creative design options - gradated colour, graphics imports, picture editing,
text with special effects, complete forms and much more
mail merge functionality
Interactive help function - step by step to the perfect printout
for Microsoft Windows 98SE/2000/ME/XP/Vista/7/8
Languages: German/English/French/Dutch/Italian
Choose template

A large number of design options

Print - detach - that's all!