eyestyle® - Innovative design for your office.
The eyestyle® collection comprises unusual desk utensils with a glossy surface that brighten up any dull working day. Minimalist and exclusive with a stylish use of shape, they are winners of many international design awards. Make a contemporary statement and express your individuality through carefully selected accessories. Functionality is a must; classy design and superb quality are a free choice. The unique look and high level of functionality of this collection are bound to impress; they will appeal to anyone with a strong sense of personal expression and a love of modern design.

International awarded
The contemporary shapes, high level of functionality and the glossy surface make a striking impression. The eyestyle® letter tray and the magazine file have received five international design awards. Their trophy cabinet includes the "red dot design award 2012", the "iF product design award 2012" and the "universal design award 2012, as well as a nomination for the "German Design Award 2013". In addition to this, the letter tray and magazine file won the "interior innovation award - 2013". This means that the eyestyle® desk accessories range is the proud holder of five design awards. This success illustrates the high standards of product design and quality at Sigel, and is proof of our flair for aesthetics and design language.
Go to the awards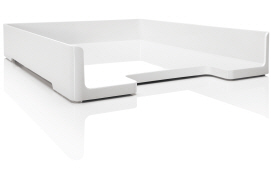 Pure Premium Design
All of the desk utensils in the striking eyestyle® collection are distinguished by their clean shapes. These shapes and the understated design of the eyestyle® desk accessories make the products an attractive addition to any desk. The appeal of the pencil cup, paper clip dispenser, sticky notes box, hole puncher, and stapler lies in their rounded contours and high-quality combination of material. The contrasting padding in the desk pad and mouse pad makes a bold statement. The letter tray is in keeping with the stylish shapes of this product range. It can be used singly, or for vertical or cascading stacking, and is big enough for documents from A4 to C4. The magazine file is made of sturdy, high-quality material with a glossy surface. The practical thumb hole harmonises perfectly with the linear design language. The magazine file is ideal for magazines, journals and A4 documents.