Stylish picture displays that make a designer statement
Stylish interior décor would not be complete without beautifully framed pictures. The picture frames as just as important as the pictures themselves – the higher the quality, the more prestigious their effect. The exclusive
gallery
deep-profile frames add a contemporary, minimalist art gallery feel to any living or working space.
Further information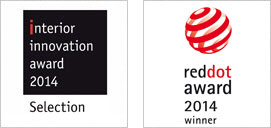 Eye-catching and classy – the gallery deep-profile frames
The beautifully shaped deep-profile picture frames are made of brushed full aluminium and, thanks to the innovative deep profile, are the perfect way to place your works of art centre-stage. In addition to their sturdy frame construction, the high-quality, light yet stable acrylic glass is another plus point for these clip frames. The
gallery
designer series comes with a choice of two different frame profiles. The solid 'bold' profile has a clear shape and understated elegance that is sure to impress. The 'slim' frames, considerably narrower in profile, have a classic, minimalist shape that makes them stand out from the rest. Both profile types provide the perfect setting for your works of art.
Further information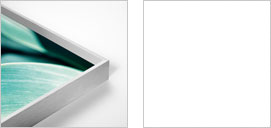 A hanging system for a perfect display
A picture wall collage adds a certain flair to any room. Combine several
gallery
deep-profile frames on your wall to create a stylish display. To achieve the perfect gallery look, use the
gallery
picture rails and mounting set. The picture rails, available in white and silver, are easy to mount to the wall and can be expanded as required. Pictures can be exchanged as often as you like; it is also simplicity itself to vary the height and position of the frames on the wall. The 'slim' or 'bold' deep-profile frames are simply hung onto the nylon cable – that's all.
Further information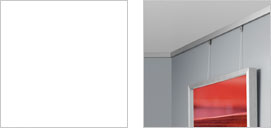 Picture Ledge
Understated, stylish and linear: that's the
gallery
picture ledge. The classy picture ledge, made of high-quality, transparent acrylic, is the contemporary, individual way to display pictures and ornaments. This stylish shelf is available in two different lengths: 100 cm and 50 cm.
Further information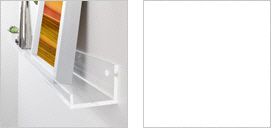 Discover the variety
It is not only the elegant linear design of the
gallery
hanging system that makes it so attractive; it is also its intelligent functions. These exclusive designer frames provide the perfect setting for your pictures, either as a single frame mounted alone or several grouped together. The compatible, unique mounting system is the stylish, flexible way to hang frames using a picture rail and nylon cable. The
gallery
Picture Ledge is particularly flexible and decorative. Pictures, postcards and other ornaments can be attractively displayed on this shelf.