Let pictures stand rather than hang – the contemporary way to display pictures
The gallery picture ledge is a particularly decorative and flexible way not to hang up pictures. It allows pictures to lean attractively against the wall – like in a modern gallery. Pictures and other objects lean side by side or one behind the other to create an attractive display.
The design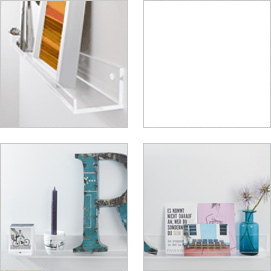 The appeal of the picture ledge lies in its simple, even minimalist, linear design. The high-quality, sturdy acrylic glass with its brilliant, glossy surface goes perfectly with any colour of paint or wallpaper. An additional accent designer piece for your room. Discover the wide range of options for decoration – with pictures, accessories such as vases, postcards or books. The instant way to add an appealing, stylish touch to your interiors.
Go to the product