Creative, homemade gift ideas
It's hard to beat a personally designed gift. See below for some great ideas and suggestions by Sigel for quick and easy ways to create personal gifts that come from the heart. Use photos, lettering or icons and let your creativity flow free.
T-shirt transfer film: beautiful and creative
top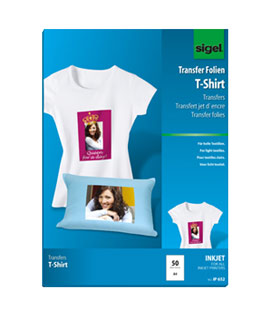 Put an end to boring presents! Design your own T-shirts, long-sleeved shirts or cushion covers. It couldn't be simpler with Sigel's transfer films.
Create T-shirts for a huge variety of occasions, such as a farewell for a colleague, stag nights or hen nights, school-leaving parties, club outings. Conjure up a soft cushion for Mother's Day or St Valentine's Day. Give your host an eye-catching apron at a barbecue or dinner party. It just takes a few minutes to make a great present that is anything but run-of-the-mill.
It could hardly be easier: select a motif and/or text, print it out using an inkjet printer, cut out and iron on.

Photo Balloons – do-it-yourself: greetings and decoration
top

Sigel Photo Balloons are perfect for a variety of occasions. For christenings, weddings or anniversaries, Sigel Photo Balloons are a creative gift idea or a little surprise for your host that is quick and easy to make. For example, the photo balloons can be used to decorate the table at a birthday party, or to add an unusual touch to a buffet table. Print portraits of your guests onto the balloons and put them on the table instead of place cards. Or give a personalised photo balloon with a beautiful bouquet of flowers as a gift for your host or a thank-you present with a difference.
In addition to this, these high-quality, appealing photo balloons are ideal for use as giveaways in a business context. For example, they can be handed out as a small memento to visitors to your trade fair stand.
Print your logo, your company statement and an attractive motif or a QR code onto the balloon.
Both sides of the balloon can be printed. After printing, simply inflate the balloon and fasten using the enclosed parts. Give free rein to your imagination when it comes to choosing the motif. The photo balloon is also ideal as table decoration thanks to the base attachment. From now on your motto will be "do-it-yourself"!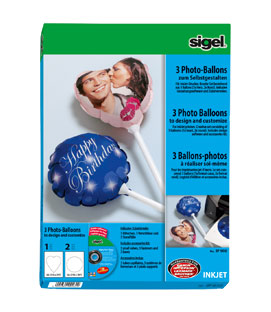 Labels for bottles – put a label on it
top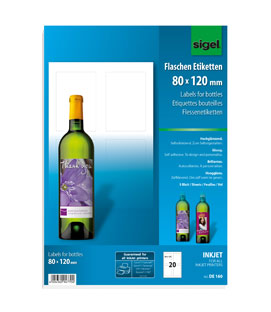 Design your own custom labels for bottles using photos, motifs, quotations, a personal message or a logo. These practical adhesive labels allow you to conjure up a wonderful, tasteful gift in no time at all. They are also ideal for special occasions, such as weddings, christenings, anniversaries or birthdays, when they can be used to add a unique touch to bottles of wine, bubbly or liqueur.
The glossy, self-adhesive label is quick and simple to customize and print out with an inkjet printer. Simple stick on to the bottle and your gift is complete.

Magnetic Paper – attractive and decorative
top

Sigel's Magnetic Paper allows you to display your favourite pictures decoratively on any metal surface. On the fridge, a magnetic pinboard or a metal shelf – this idea is a great way to draw attention to your favourite motifs.
Create your own magnetic stickers either with a photo, a witty quotation or even just individual words in attractive lettering. Jazz up your fridge with a wealth of ideas and creativity. Create visual highlights and place decorative accents on magnetic surfaces of all kinds. The Sigel Magnetic Paper is also a great aid to organisation in your cellar or larder. Use it to label your shelves and see where everything is at a glance.
The magnetic paper is, of course, also ideal for commercial use. Create goods labels in a matter of moments and then simply attach the magnetic paper to a metal shelf.
Lay out your photos or texts (e.g. sayings or quotations) on the magnetic paper and print out your ideas with an inkjet printer. Now all you need to do is cut out the motif and attach it to the surface of your choice.
A product with a special attraction all of its own!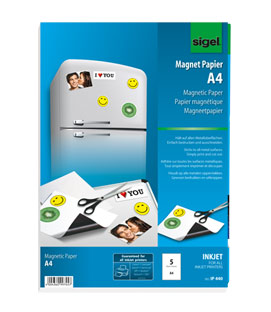 Window film – a lovely view
top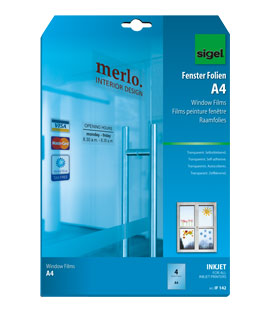 The Sigel Window Film is perfect for both private and commercial use.
In the private sphere it can be used to decorate windows and glass doors with any motifs you like. With this transparent film from the Sigel range, it takes just a few minutes to conjure up a special mood by decorating your glass surfaces. Make your own window pictures with your family and friends. Simply select a motif, print it out and attach it to the glass surface. Fun for the whole family! The self-adhesive, transparent film is also perfect for stylish accents around the home: for example, you can add a finishing touch to decorative elements such as glass vases, jars or mirrors.

In the business sphere, the Sigel Window Film is the decorative, creative way to turn glass into advertising space. Draw your customers' attention to especially attractive offers or provide them with information about methods of payment in a shop. Label rooms, e.g. meeting rooms, storage rooms and toilet facilities to help your customers and business associates find their way around faster and with confidence.
The Sigel Window Films adhere securely to the glass surface even after being removed and replaced several times.
Film stickers – customization and information made easy
top

The self-adhesive, transparent films from the Sigel range are extremely versatile. They are suitable for labelling preserving jars or bottles of liqueur or oil. This high-quality film allows you to create labels giving information, product labels, fan merchandise or special motif stickers. Position the images onto the A4 sheet as required and print out your creations with an inkjet printer. Now all you need to do is cut out the motifs and attach them.
The high-quality film is also available in a weather-proof version for outdoor use. Now you can produce stickers for your letter box or make your own individual signs for outside. The film is opaque, which means your text will is clearly legible.